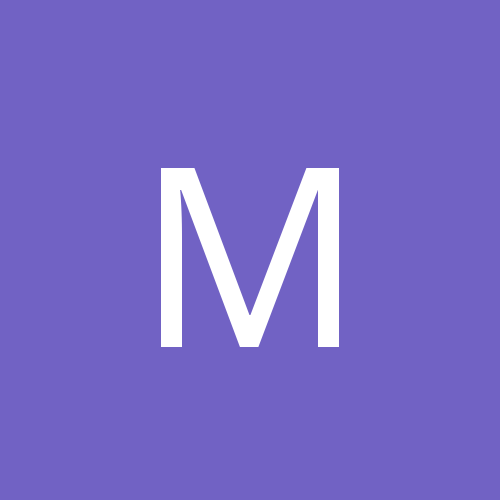 Content Count

642

Joined

Last visited

Days Won

4
Everything posted by Mike1989
In our current position we realistically need to add contributors. I don't think a project would be an ideal fit for us. In all likelihood we will want to bring back our veterans and make another play off run. So while a raw high upside pick might have appeal, it is quite likely they wouldn't get sufficient court time to make the desired impact, whereas a more pro ready player with less upside could potentially get more court time because they can make more of an impact. That's not to say we should ignore a high upside pick over a 3 and D guy if someone falls that is too good to pass on, but I suspect we'll want to add a player that can make a more immediate impact to our roster and help us improve the win count and play off seeding next season.

That's a nice trend to have, not as good as the Miami Marlins winning the World Series in their two play off appearances to date, but it's still a good trend to have in that when we win the division we win a play off series. Let's hope that continues! I'd love to see AG breakout in the play offs. It would be nice to see Ross and Vucevic do the same. Ok that would potentially increase their market value come free agency, but having watched this team grow over the past number of seasons, it would be nice to see the guys we have invested time and money in breakout in the play offs and get it done for our Magic.

I'd say we have a chance of pulling off a first round upset. We split the series with them in regular season. One of our wins they had Kawhi but no Lowry, and the other win Kawhi didn't play but Lowry did play. In the two defeats both all stars played for them, one game we played it close and lost 93-91, and the other we lost by a dozen points 121-109. So in a sense we don't have anything to fear. We are a young and improving team with no play off scars, whereas the Raptors do have some play off scars. They got swept by Washington; the year after they nearly lost to the Pacers in round one, and the Heat should have beat them; and three straight defeats to the Cavaliers, though it was always going to be tough to displace LeBron James. But they have their scars, whereas we come in young and fresh with a nothing to lose attitude. If we lose the series, fine, it's a learning curve. But if we win, well, that's great news! So although I think we will probably lose the series something like 4-2, we could spring a surprise if our guys step up and take advantage of the Raptors mistakes. Obviously it is going to be a tough series, but the Raptors have never really dominated in the play offs to date, they have always left openings that their opponents have failed to take. If we can take them, we can win. It's a great way to celebrate the 30th season of Orlando Magic basketball. Division champions and a play off appearance, which will hopefully be a play off run. As I'm the same age as the Magic, our last play off appearance came when I had finished my masters degree, so it's a long time and hopefully we aren't going to have to wait that long again!

Not strictly true. Does defense win championships in today's NBA? We currently concede an average of 106 per game. That's better than the Bucks 108, the Raptors 109, the Warriors 112 and the 76ers 112 per game. But are we in the same tier as those teams? No. All four of them are better than us and more likely to lift the title at the end of the season. The big difference with them is offense. We average 106 per game while they average 117 (Bucks and Warriors), 115 (76ers) and 114 (Raptors). That's not to say those teams can't play defense - they can - but their advantage comes in being able to offensively overpower their opposition. Now think about how good we could be if we managed to up our scoring to say 108 per game. We would likely have a greater win count and be a top four seed contender like the Pacers. So while defense can be important, teams in today's NBA need to be able to score and shoot. If we can continue to improve on both counts we'll be fine even with Vuc in the line up.

The concern with letting Vuc go is that he finally made the all star game this year. Now perhaps that was only down to the stars that have gone west, but he's played well this season. Do we bring him back on the basis that this team will kick on with him on it? Does his signature with us make it more likely we could tempt someone else to come play here? Or do we accept that we need to move on from him and go with our young center and bet on him being better? The issue I have with the latter is that if Bamba is another Isaac, that's not an all star player. They are good players to have starting, but we would clearly lack a go to player or more consistent offensive outlet. With all due respect to Gordon, Fournier (Ross) and Augustin (Fultz) - they aren't a top there on a good team. I guess adding Vuc doesn't make that significantly better but at least he's a proven near 20 a night guy with proven production. We can make up for any shortfalls elsewhere. Problem with Isaac and Bamba is if they aren't consistent offensive threats, even with good defense, it might be a step backwards. I know the Grizzlies managed to go against the grain for a while with their grinding and smothering approach, but the league has moved on. For me I'd hold onto Vuc and retain Bamba as the center off the bench. But if we do let Vuc go, I suspect without any other significant moves or improvement, we'll take a step backwards next season. I'd be aiming to kick on with what we've got and add to it.

I think there are times when you just need to draft the best player available and worry about the fit or what happens to your existing players at a later date. If there is a centre that we believe has significant upside and can become a special player, then we can't pass on that player because we already have Mo Bamba. Same goes if a can't miss forward falls on our lap, we can't pass on them because we have Aaron Gordon and Jonathan Isaac. We aren't in a position to be picky. We have to continue to add franchise changing talent and if that means sacrificing an existing piece to make way for the new talent, so be it.

The potential is there for him to be better, however he's yet to do much on the court. At least Smith has shown what he can do on the court and has shown flashes that he could be a good point guard at this level. With further development Smith could be really good. But I would agree that Fultz potentially can be a lot better, the issue is whether he can stay healthy and get his game together. If he can, he can be special. If he can't, he'll be a bench player heading towards spells in China. With that said, I'm glad we took the risk on Fultz. Let's hope he can get on the court and realise his potential!

Or could that work out to be a good thing? Their trade offer included Lonzo Ball, Josh Hart, Brandon Ingram, Kyle Kuzma, Ivica Zubac - this here is a new young starting five including two high draft picks and the others were late first round or second round players. Add in KCP and two first round picks, and that's a lot to give up for Anthony Davis. On the one hand some might say adding AD to pair with LeBron is worth giving up all of that, but who would have been left? Rondo, Stephenson, Bullock, Beasley, McGee, Chandler. If I'm not mistaken all of those guys are out of contract in the summer. That would leave LeBron, AD, Wagner and Bonga under contract. I suppose that's cap space to pursue another big name to form a big three, but it's a fairly bare roster if they had given up all of those assets. To be clear, AD is a top player and perhaps worth giving up the farm for. But the price was steep and I'm not entirely convinced LeBron and AD plus a bunch of so-so veterans would be enough to compete for a title. It should get them into the play offs, but not enough to win, and they'd need a lot of work come the summer to build a competitive supporting cast.

How many seasons have we spent heading for the worst record post-Dwight Howard? This could be our seventh season heading in that direction. Granted one of those seasons under Skiles was similar to this one in that we tried to win but wasn't very good at it, but point is we've spent a lot of time trying for top picks and they haven't worked out for us. Do we keep doing it and hope we finally get that guy? Or do we try and win and hope that development curve is good for the team and we potentially hit on someone outside the top five to ten picks like other teams have? It's a tough situation to be in. And it's annoying when you see teams like the Pacers go from the PG13 led era with guys like Hibbert, West and co to the Oladipo led unit. Or the Jazz going from the Hayward led team to the Mitchell led one. One of these days we will get it right...

It has appeal since the Knicks pick could land them Zion. The Knicks would have a talented duo to build around in AD and KP, but a pretty injury prone duo at that. So I'm not entirely sure the Knicks give up their youth and potential top pick for AD, especially if there's no guarantee he'll extend with them, but it would be a typical Knicks move.

Toronto will be doing everything in their power to keep Kawhi happy in the hopes he'll extend with them. As for Butler, he's probably still on the trade block and not entirely in favor. There are reasons to rest him from him having a niggle to a trade about to happen, but it's an odd decision for them to rest their best player.

True but there are some that could require a starting PG... - Knicks are a possibility unless Ntilikina breaks out as a passer. - Bulls are another if Dunn doesn't improve, he's alright not great. - Heat could be in the market for someone if Dragic leaves or they decide not to pay him. We have a chance at attracting someone but we'd need to show significant progression this season. AG would need to have a borderline to all star caliber season, Isaac would need to stay healthy and prove he's a potential high end two way player, and Bamba would need to translate his game to the pros and prove he can be that dominant center and potential unicorn if his outside shot develops. If that young front court plays high level defense and shows a lot of promise, we'll have that to sell FAs on, but another so-so kinda season and they'll likely shun us.

1990s was dominated by the east: 7-3 1980s was a tie: 5-5 1970s was a tie: 5-5 Now granted since 2000 the west have won 13 to the east's 6 titles, but prior to then the east had 17 titles to the west' s 13. So swings happen in the NBA much like they do in the NHL, NFL (etc) when one conference dominates then things change. All it takes is for Boston and Philly to become legitimate title contenders for the next decade, or the Knicks prying away a max level free agent to put alongside KP, Knox, Ntilikina (etc), or ourselves attracting a max level player to put alongside our young front court trio. There's no reason why a few eastern teams can't develop into title contenders and win titles in the near future if the ascending young teams put it all together.

It's possible we could be in a similar position if things go our way. Jonathan Isaac is a high upside player. He is already a very good defense player, if his offense ever improves to the same level he can be an all star. Aaron Gordon had his best year so far in his career last season. If he continues to work hard and get better he has all star potential. Mo Bamba is another high upside player. Defensively he could be a stud. If he develops offensively and adds that beyond the arc shot he's a potential unicorn and all star talent. So that's potentially a trio to build around. If we land another top pick this year that could see us add Barrett or Reddish to slot in at SG. If we don't struggle we'll eventually free up cap space when Vuc and co' s contracts come off the books, and if our young front court become show signs of potential dominance guards might consider coming here via free agency. Alternatively trade players for picks and young talent, hope to get lucky and those picks turn out to be very valuable or some team trades away the next Donovan Mitchell and Rudy Gobert (Denver drafted and traded them to Utah!). Granted all of this comes down to whether our front young court puts it all together and become borderline all star to all star talent, and then us either hitting on future draft picks or moves made in free agents or through trades. But it possible if all goes well for us to be a play off team ascending towards contender status within the next five years if things go our way. Conversely if things don't go our way we'll be drafting top five pretty much every year between now and then, but let's think positive and believe in our talent, our coaching staff and front office. Maybe our time is coming...

Another PF/C. Decent stats in a limited role so might be a useful addition.

Well Vuc did average 4 assists per game on his per36. So maybe the answer to our point guard problems was already on our roster and we've been looking in the wrong place!

So our roster consists of... PG: Augustin, Grant SG/SF: Fournier, Ross, Simmons SF: Isaac, Iwundu, Frazier PF: Gordon, Jackson? C: Vucevic, Bamba, Mozgov, Birch, Johnson A third of our team are centers!

I wouldn't want to be tanking for top odds next year. There's a 48% chance that the teams with 1st-4th worst records can end up picking outside the top four. So teams trying to do their version of the 76ers' process could end up risking it all and ending up with a pick in the 5-8th range, that might still be a franchise changing talent, but looking at next year's class I wouldn't be tanking hard and risking the coin toss going against us.

True there's a risk Butler leaves, but there are risks that come with acquiring Lonzo Ball (How much of a negative factor will his dad be? Will his shooting improve? Can he boost his scoring? How good will his defense be? Is he a star?). Both paths come with the risks but I'd rather take a gamble on Butler since he's a proven all star. We'd also own his bird rights so we could go over the cap to extend him if I'm not mistaken? So that could help us when going for another max level talent next year if we've already got an agreement on board with Butler. With that said if we did acquire Lonzo I wouldn't complain about it. It would be another young piece to add to our front court trio.

Butler is a proven all star and high level defensive player. Add him via trade then try to persuade one of the free agent point guards to come here. Ideally it would be Kyrie or Kemba, but Teague or Dragic would be decent additions on short term deals to help us move up the eastern conference. Add in development from our front court trio and we'd have upside as well. I'd love Butler to come here but I suspect he'll end up in New York with Kyrie as his running mate.

Perhaps they have a deal in place for Schroder? Not sure the Knicks would be interested. They've got Ntilikina, Burke and Mudiay at the PG spots. Hardaway Jr, Dotson and Baker at the SG spot. So guard wise they seem to be fine and without Porzingis they might be looking to tank for a top pick in next year's draft. It would be great if we could get something in return for Vucevic or Fournier, but knowing us we'll not get much in return for them...

It's a case of who needs a starting point guard and are willing to throw the dice on him. I honestly don't see a team in either conference with an open spot, so it was likely to be a backup role for IT. I am surprised he's signed for the deal he has, but at the same time it's a prove it deal and that might make him more appealing this time next year if he's stayed healthy and returned to form. However I suspect a sixth man like role is probably going to be his thing going forwards. Denver is ideal for him and adds a scoring punch to their bench unit. When you can take Jamal Murray off and put on IT that's a good rotation to have.

It does make me question what our intention is for next season. A healthy IT could have been an upgrade over what we've got here, but do we want to win games next season or is our intention to stick with our young talent and development them (ie a semi-final for another top ten pick)? If it's the former then signing IT makes sense because if he does get healthy and return to form then he would boost our win count. However if it's the latter then signing IT makes no sense because he could boost our win total too much. Part of this depends on what our intention and aims for the coming season are. Obviously we need to factor in injuries, do we believe he can overcome them and stay healthy? If not, passing on him makes sense. Then there's the culture side of things, if we want to build a team based around lengthy athletic players that play good defense, again passing on IT makes sense. After his injuries will he be better than DJ? Maybe, maybe not. So even if we push aside the win-loss side of things there are reasons, and perhaps more reasons on top of this, that made us pass on signing IT even at a cheap price. The shame here is that we didn't have the space to take on a salary dump like Faried for a first round pick next year. It would be nice if we could stockpile some picks for future drafts.

Kemba is a potential trade candidate for the deadline if the Hornets are out of play off contention. I see them trying to keep hold of him unless they are blown away by an offer or he gives them the impression he's off. Rozier would be a nice addition, however I see the Celtics keeping him as insurance for Kyrie. The rumors are already rife that he wants to go play in New York, with the risk of him leaving they should keep Rozier around because he's their replacement starting point guard if Kyrie leaves. It would be nice if we could trade for a good starting point guard, but I'm struggling to think of someone that does the bill that's realistically available without a high price tag...

What will probably hold this team back this coming season is the point guard situation. DJ is not really a starting point guard for a good team, and Grant is nothing more than a depth chart player. So unless we get some unexpected production from them I think that will be what will hold us back from becoming a 40 or win team. I still expect us to get into the 30 plus win range next season, but I'm not going wild with my predictions because Isaac and Bamba are having a good summer league. It's one thing to dominate players at the same or similar stage of their development, it's totally different when they come up against the Embiids and Jordan's of the center world, and the LeBrons and Goerges of the forward world. I'd say 35 wins is a realistic win count, with upside to add more if we have an all star breakout from AG and/or get unexpected point guard production.