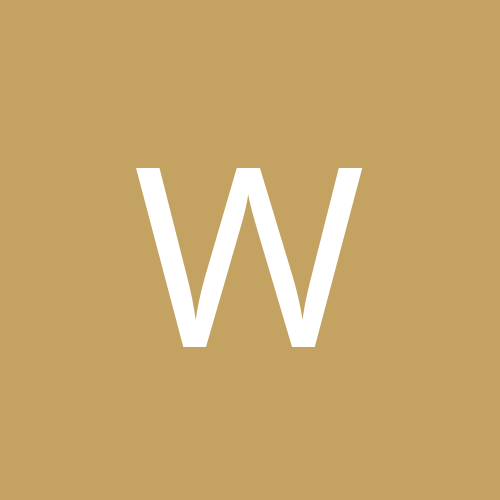 Content Count

116

Joined

Last visited

Days Won

2
Everything posted by Wilbur
I don't necessarily want to be in complete tank mode, but keeping Vuc for any period of time in hopes of winning games this season makes no sense to me. This season has to be about developing BIG and buying into the new system. Vuc has to be moved for a future asset. Waiting will only make the Magic desperate at the deadline.

We will have to agree to disagree on this one. The fact that he skied for the offensive rebound proves he is mentally tough enough to fight through the fatigue and make the play. Saying he shouldn't be tired isn't macho bs. It is an opinion of what the conditioning of a 23 year old premiere athlete should be coupled with an expectation that our experienced coach will not ride him into the ground so that there is nothing left in the last 4 minutes. However, whether I am right, or you are right, doesn't change the fundamental point: (1) If Gordon is in the game the ball shouldn't be in a two man game with Vuc and Fournier. But I'll add to it: (2) If Gordon was gassed and couldn't be effective/didn't want the ball, he should have been on the bench and our coach should explain how he didn't handle minutes well enough to permit Gordon to be effective in crunch time.

Then let's make the decision off of 6 years of watching Vuc and 4 years of watching Fournier. They aren't bad people. They aren't even bad NBA players. They are simply no longer a fit for this franchise. We have outgrown them. There was a time when we thought those two were going to be the foundation of the franchise. That is no longer the case. Vuc is an energy killing back to the basket big without defense. 20 years ago, Chicago and MJ would have made him a star. That was then this is now. Evan would be great as instant offense off the bench for a contending team. But right now he seems to believe that he is the offense on this team. When he is in the game, the shot is going up. He has somehow managed to increase his shots per game each season he has been in the league. I just don't see him settling for a bench role in Orlando. Even if he would, is the franchise better off with him coming off the bench firing or in having the ability to have one of Isaac or Gordon on the floor at all times running the offense from a point forward look or running PNR with Bamba/pick your PG? The latter crtainly seems better for developing the future of the franchise. It truly isn't about the one game last night. Who needs a C or SF and has a young PG with some upside and a contract that isn't an albatross? Get them on the phone quick before this season is wasted playing buddy ball in crunch time while your potential all star gets iced out. I think someone mentioned Gordon being tired. This is complete rubbish. I don't care how hard Gordon goes all game (and it was exceptional effort) he is 23 and should demand the ball in that situation. If a 23 year old NBA player is completely gassed by playing a single basketball game he either needs to get in extra conditioning or get some mental toughness. I don't think AG needs either. Rant Over.

Trade them or cut them. But this team is going nowhere with Vuc/Fournier.

Vuc/Fournier in a two man game freezing out the guy with 26 points and 16 rebounds. Awesome.

What runs does the Vuc/Fournier lineup have?

Let the offense run through Gordon. He needs to demand it. He has the big contract. It's his team, yet he has 3 shots and Vuc/Fournier have 12. Unreal.

Won't change as long as our identity is Vuc/Fournier. We've seen it. We don't like it.

I'm fine with Fournier shooting it everytime he touches it... provided he and Vuc are playing for other teams. If we are keeping both around this year and allowing them to shoot a combined 30 shots a game, slap redshirts on Issac and Mo and, embrace the tank.

I care as much about two games in Mexico as I do about Evan Fournier's views on our off-season. Okafor just signed a league minimum deal. Okafor is Vuc without the range, right? Lots of scouts missed it when it comes to that 2015 draft.

I come for basketball talk. I know nothing about James investments that resulted in him making his money. However, from an economic standpoint it is impossible to amass that kind of money without creating employment and improving a community. My wild guess is that a true evaluation of his entrepreneurial efforts would demonstrate that his financial impact on communities would be far more than the value of his personal fortune and the number of lives improved would be staggering.

Dakari Johnson becomes a 5th center? That's got to be a precursor to Vuc leaving, right? With Gordon's contract decreasing over time and Mosgov coming off the books 2 years from now, would you take on an extra bad year if it brings an asset?

Orlando is a textbook example of how to squander assets. Sure there will be picks that don't pan out. But consider the following: Oladipo and a 1st rounder were wasted. Hezonja and others were simply not developed and allowed to walk. Money was invested in Vuc, Fournier and Harris which actually decreased their value around the league. The rebuild now rests on the shoulders of Gordon and the last two 1st rounders. All 3 are considered athletic freaks. There is an upside, but wow, what a waste of assets.

So he's possibly good...except that he's not? That's the story of this franchise the last 6 years.

I'm missing something. The pg we just received got the most mpg of his career last year, managed an almost 4/1 ast/to ratio, shot over .320 from 3, and apparently has a defense first reputation. I get he isn't an all-star, but that's a pretty good return on Biz, right? No cap relief... But hard to get that at this point.

If the direction of this franchise is length and athleticism, eyes should also be on Vuc and Evan and what they will return. At this point, I'd give up Fournier for trash that expires next season with Vuc and Ross. As much as I'd like to see Vuc move along, next year is another development year for Gordon, Issac and Bamba, so letting his contract play out might be the best option. I'd love to ditch Biyombo as well, but that contract is bad and if there are no takers, it might just be worth it to keep him to be a decent sparing partner for Bamba's development.

Didn't the Magic draft Gordon to be the defensive stopper with hope that the offense would come around? Why not pick a guy to be an offensive catalyst with the hope that his defense will come around? I'm not worried about where they play. If you put Gordon, Issac and Bagley on the court to start the game, chances are your rotation is going to dictate that 2/3 are always on the court. For the minutes all three play together, they are a complete matchup nightmare on offense and Gordon and Issac should be able to switch to give Bagley some protection on the defensive end. It is not as though Bagley has athletic limitations that impair his defense like Vuc. The guy is an athletic freak like Gordon. I'll be shocked if he is there at 6. Other than Ayton, I don't think there is another player that is more sure to be gone when the Magic pick.

Does he have to be on this team this year? When you think of all the young players that we have run through in this rebuild, to have only Gordon to show for it is really frustrating.

What can the Magic expect in return if they tried to immediately flip DeRozan to get back into the lottery? Essentially, a trade down that sheds salary instead of future draft assets?

If Bagley is there at 6, a guy that some say has the highest upside of any prospect since Anthony Davis or Ben Simmons, how do you pass that up for Porter and his spinal disc injury?

If the guy Orlando drafts at 6 this year is awful, how good are the next 3 years going to be anyway? This team is hitched to the development of Gordon (assuming he is resigned) and Issac. Those two are going to REALLY need to develop if they are going to overcome a Hezonja (no production in the first three years) type pick here.

The greatest pick for Orlando at 6 in this draft, in my opinion, is Bagley. If your future front line is Gordon 6-9, Isaac 6-10, and Bagley 6-11, all of whom can shoot the 3, pass and handle the ball you have match-up nightmares for opponents. I don't worry much about Bagley's defense because he is athletic and long. In addition, when you have the ability to switch Gordon, Isaac and Bagley he can largely be hidden. But... I doubt seriously that Bagley falls to 6. Assuming the Magic are sitting at 6 looking at one of Young, Carter, MPJ, Mikal, Sexton, Knox or SGA, I'd be real tempted to see what Philly, NY, Cleveland, Chicago, and even Charlotte and LAC were willing to give up to get the guy they want out of that group. I'm not convinced that Young is a better player long term than anyone else on that list.

If the Magic give AG the max... and I think they need to... this is AG's team. There is no second fiddle. Vuc and Evan need to be dealt for a bag of peanuts if necessary. The Magic need to hook AG on the fact that this franchise is going to sink or swim with him in the short term and that help in the form of Isaac and whoever we draft this year is on the way, but it needs to develop. In the meantime, he is the guy that is going to make this team win. He is the guy that has to make the players around him better. He is the guy that needs to control the lockerroom, etc. If AG doesn't buy in, he isn't worth the max deal... and maybe that is why we are hearing the Magic might not match.

To me Ross is in the same boat as Vucevic. They are both 27 years old, entering their walk years. They both do some things that make you believe they can be a piece of the puzzle, but neither one is worth what we will pay them next year and neither one is likely to be here beyond one year. Turn them in for future assets now. Don't wait. If this team were an 8 seed this year with a top 5 pick and the hole at PG, maybe we NEED Ross. But it isn't and the needs are plenty. Better to have a future asset than one year of Terrence Ross. I'm not entirely sure the front office knows what it is building. This off-season will be key. Can the dump the salary commitments to Fournier, Vucevic and Ross? Can they resign Gordon to something less than max without ensuring he is gone when the next contract expires? What happens with Hezonja?