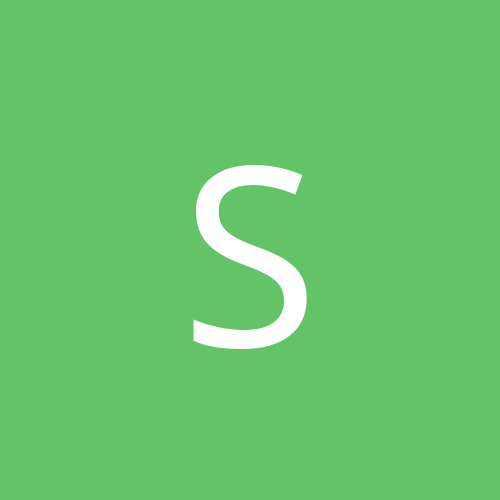 Content Count

4,798

Joined

Last visited
Everything posted by Shine88
He's coming off two pretty solid seasons in Portland. He's a much different player now than he was when he was here.

I'll rather have Shabazz over Ulis. But I really think their going to give Briscoe a hard look this summer. He's a bit intriguing, especially with the way he shot the ball last season overseas. He definitely has a shot to make the team as our 3rd string PG.

That Kemba trade would be a bad move, especially if we take on Batum. It 'd be like the Ibaka deal all over again. I think the best thing for us to do is to continue to build from the draft, and wait for the right deals to present itself. There no need to rush the process.

Shine88 replied to Adam_Magic's topic in Off-Topic

Put me down for one of those spots, Adam.

Pistons and Bucks work out a sign and trade for Jennings.

I looking forward to see how the PG experiment goes for Vic. I think Lamb will see a lot of time at PG, too. I think the staff envision him in a Gary Neal role this season, and I believe he's capable of handling that role. He just needs to gain a little more confidence.

Yea, I wouldn't mind Beaubois or Beverly if they were to go the cheaper route either. Brian Roberts, who looks like the odd man out in New Orleans, is another guy I like if they go that route.

The Pistons are reportedly going to be players in free agency. They've been link to just about every top free agent on the market, which lead me to believe their goal is to make the playoff. They definitely don't seem to be in tank mode. I think Dumars knows he's on a short leash, and the only way to keep his job is to win now. I mean why else are they targeting Josh Smith, Andre Iguodala and J.R. Smith?

Villanueva has an expiring contract though. Plus, you're not gonna get much value in return for Davis - because he's coming off an injury.

Here's my off-season mock for the Magic: Buyout Al Harrington Hedo Turkoglu Trades Orlando trades Arron Afflalo and Andrew Nicholson to Los Angeles Clippers for Eric Bledsoe and Caron Butler. It's a win-win for both teams. Orlando gets it's PG of the future, and LA gets Chris Paul a legit running mate in the backcourt. Orlando trades Glen Davis and E'Twaun Moore to Detroit for Charlie Villanueva and a 2014 second round pick. The Pistons are in win now mode, so they could use someone like Davis off the bench. Plus, Dumar has had interest in Davis in the past and they could really use him now that it looks like Jason Maxiell will be moving on. Orlando trades Caron Butler to Memphis for a 2015 second round pick and Rudy Gay's TPE. Memphis could use some perimeter scoring and another defender on the perimeter. Butler could fulfill both roles for them. Orlando trades Josh McRoberts' TPE and future second round pick to Houston for Thomas Robinson. Houston clears some cap space to make run for D12, and we add another young talent to the stable. Free Agency Austin Daye, SF Has show some promise in the limited amount of action he has gotten so far in his career. I feel he could be a solid backup for us on the wing. He also has shown to be a very solid 3pt shooter, which is an area we lack at this moment. Has ties to Scott Perry, too. Cole Aldrich, C Young, developmental big that has shown some promise toward the end of last season with the Kings. Would be consider as the 5th big. Has ties to Hennigan. Depth Chart C: Vucevic/O'Quinn/Aldrich PF: Harris/Robinson/Osby/Villanueva SF: Harkless/Daye SG: Oladipo/Lamb PG: Bledsoe/Nelson/Dellavedova

Rodney McGruder signed with Orlando, according to John Goodman.

Kid is very talented. He's sort of similar to Jeremy Lin. Good pickup by Henny. I think he makes the team as the 3rd PG.

Hairston went back to school.

Vander Blue didn't get drafted either. A lot of talented players still out there. Can't wait for summer league.

Henny needs to snatch up Kabongo and Curry for summer league. I believe they both could make it to training camp and compete for a roster spot.

LMAO that was Kyler who asked that question? I remember lol when I saw that post-game press conference, and now that I know it was Kyler, makes it even more funnier.

That was Tom Penn. I also think Noel will be the pick if the Cavs pass on him. Rose.

1. Ben McLemore 2. Nerlen Noel 3. Victor Oladipo 4. Trey Burke 5. CJ McCollum

I wouldn't get to worked up about McLemore declining to work out against other prospects. The top guys do this every year. It's really driven by the agents. I remember back in 2009 when James Harden declined to workout against both Tyreke Evans and Demar Derozen.

Ha! I remember Hobson having quite a fanbase around here the year he enter the draft.

They won't have any problem at all getting past halfcourt.

Here's my Magic mock off-season: Draft Round 1 - Ben McLemore, SG, Kansas Best two way player in the draft. Ray Allen-type shooter with superior athleticism. NBA Comparison: more athletic Klay Thompson ***Orlando trades four future second round picks (starting in 2015) to Cleveland for picks #31 & #33*** Round 2 - Mouhammadou Jaiteh, C, International Developmental big man that we could stash overseas for 2 years. Held his own against Team USA in the Hoop Summit game a couple weeks ago. Also only 18 years old. NBA Comparison: Bismack Biyombo Round 2 - Archie Goodwin, SG, Kentucky Was highly-touted coming out of HS, but failed to meet expectations. Still has a load of potential to become a very solid player on both ends of the floor in the NBA. NBA Comparison: Lance Stephenson Round 2 - Myck Kabongo, PG, Texas Lightning-quick PG that was also highly-touted coming out of HS. Took a big hit this season due to suspension, but played fairly well once he got back on the court. NBA Comparison: Patrick Beverly Free Agency Austin Daye, SF/SG Showed some promise whenever he got some playing time. Could show out in the right situation a la, Tobias Harris. Also, Scott Perry was a part of the staff that drafted him, so their some connection there. Cole Aldrich, C Had some solid outing with the Kings last season, showing he was capable of being a solid backup in this league. Also, like Perry with Daye, Hennigan was part of the Thunder staff that drafted Aldrich. Trades Orlando trades Arron Afflalo to the LA Clippers for Eric Bledsoe and Caron Butler. This trade is a win-win for both parties involved. The Clippers finally get their starting SG to pair with CP3, and the Magic get their PG of the future. Orlando trades Al Harrington to Memphis for a future second round pick and TPE (Rudy Gay). Memphis could really use a stretch four like Al coming off the bench. Depth Chart PG: Bledsoe/Nelson/Kabongo SG: McLemore/Lamb/Goodwin SF: Harkless/Daye/Butler PF:Davis/Harris/Nicholson C: Vucevic/O'Quinn/Aldrich

Jordan was going to take Brook Lopez that year they drafted Augustin, but he let Larry Brown talk him into taking Augustin. They even went as far as promising Lopez that they were going to take him at 9 if he was available, which caused Lopez to cry when they passed on him. I know Mike wish he could have that pick back. Speaking of Lopez, would you guys be happy had we accepted the Nets offer for Howard and ended up with Lopez and Lilliard? Billy King should have been fired for trading that pick for Wallace. That has got to be one of the worst trades I've seen in a while.

Horrible value for that steep of a drop. Plus we already have a better version of Willams on the roster in Harris.